This post may contain affiliate links. Meaning I may earn a commission if you use those links. Please read my full disclosure for more information.
Resting Your Weary Head
Today I'll be reviewing the Forclaz Camping/Travel Pillow from Decathlon. Please note that this is now advertised as the
Decathlon Forclaz Helium Trek Pillow Grey
For many of us getting a good night's sleep when camping is super important. If you are like me, you can deal with almost anything when you've had a good night's sleep.
For anyone just starting out camping I always recommend making sure your sleeping gear is right for you. I will always spend a little more when it comes to getting a good night's sleep. For me making sure you're comfortable and warm during the night for a well-rested sleep is the best recipe for a good camping experience.
Camping Pillows – A Personal Choice
Camping pillows come in all shapes and sizes and for many people, they take their own from home. Apart from wanting to be warm at night being comfortable is just as important and that is split between the bed you use and your pillow.
We have tried many pillows in the past. We have taken our own from home, which was good, but they just take up too much room and we can't take them if going away wild camping where we are carrying our gear. We even made our own half-size pillows; these were great as smaller and still comfortable but not small enough for our wilder camps.
We have tried soft stuff sack pillows with polyester fillings but felt these were too soft and rather small for a rested night's sleep. Cheaper inflatable flock pillows, these were OK, folded down to a small enough size but were rather cold some nights and didn't have a cover or pillowcase.
Have We Found the One?
So, have we found the one with the Quechua Helium? Well, it is certainly one of the best we've tried. It packs down small, is lightweight enough to throw in our rucksacks, has a detachable cover, so it can be washed, has its own little carry bag too.
As you can see the pillow in its small stuff sack packs down pretty small and weighs in at just 6oz (170g).
When you get it out of the bag it takes just a few puffs to fully inflate. There are warning signs with this pillow that it should only be inflated by mouth. You should never use a hand, foot or electric pump on it. It is not difficult to inflate anyway, and the valve has a stop valve on it to stop air from escaping between breaths.
When the pillow is inflated it measures a decent 36cmx25cmx7cm (14.1×9.8×2.7inchs). you can also adjust how firm you want your pillow to be. I always fully inflate and leave a while, just to ensure there are no leaks, especially if the temperature is fluctuating. If you want it a little softer just tap on the stopper inside the valve to let some air escape and get it to your desired firmness.
When packing up simply open the valve, press the inner air control valve to let all the air out, roll up and put it in the stuff sack.
We must admit we got a good sleep with this pillow. Personally, I feel due to its rectangular shape and not being so rounded at the edges my head stayed on the pillow. Some other pillows I have tried leave me wakening up in the night looking for them as my head has rolled off them.
**Edit**
This Pillow is now advertised as the FORECLAZ Trekking Inflatable Pillow and you can view this online by clicking on the link or picture below. As you can see it is the same pillow as the one we reviewed.
Decathlon Forclaz Helium Trek Pillow Grey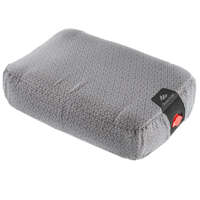 Conclusion
We think that this is a fantastic pillow and it's available from Decathlon to make the Quechua/Forclaz range. It is currently priced at £14.99. We think due to being able to have it soft or firm, the removable, washable pillowcase and giving us such a great nights sleep is definitely worth the money.
Like inflatable camping gear? Why not check out our other post – https://campmehappy.com/inflatable-camping-gear
Please follow and like us: