Do you love going barefoot? Feeling what is beneath your feet and more connected to the land you are walking upon? Powersocks can help you do just that!
I do. But, I am also aware of all the little nasty things that may harm my feet. So how do you overcome that? Well, I gave these Powersocks a try. I love going barefoot even in the colder months.
That was why I couldn't wait to try these new Powersocks out. Find out how I got on and what I thought. Would I recommend them? Read on and find out.
What Are Powersocks?
Power socks are lightweight, rubber-soled socks that can be worn around the house or out in nature. They allow the wearer to experience being outside barefoot while still protecting the feet.
The socks are lightweight, quick-drying, and extremely comfortable. They can be used for many outdoor activities including walking, running, and climbing. I've used mine for forest walks, paddling in the water at the beach, and river walking. I even use them in and around the house.
They are made with the upper material being a knitted CoolMax™ yarn that is100% recycled. The fabric is proven in lab tests to dry quicker and last longer.
The Sole is made from 2mm natural latex rubber  (Malaysian rubber trees). The sole of these socks wraps around the feet at the heels and toes for a little extra protection.
They are durable for around 300 miles and machine washable on a 40°C delicate wash. Quick-drying on the washing line or airer.
Powersocks cost £21.00 a pair and come in UK sizes child's 11.5 – Adult 12.5.
Benefits of Wearing Powersocks
Are there any benefits of wearing Powersocks?
Yes, there are many and this is what inspired Stijn, the founder of Powersocks to create such a product. Since childhood, Stijn had been plagued with back problems and Scoliosis. Stijn realised that he always seemed to be fixing the pain rather than the problem. He always wondered if back pain had always existed in humans.
Stijn states:
"That was a question I got answered when I found out about the barefoot lifestyle and its benefits for overall health. Walking barefooted without the support of sturdy shoes and custom insoles strengthens the foot muscles and core of your body. It is the exact transition to this lifestyle that helped me live a more connected life that is better for my body too. However, there was not an affordable solution for a very minimal product like Powersocks that I could wear for different activities (or simply around the house). With a business degree in hand, I Founded Powersocks in May of 2020."
Going barefoot can have many health benefits. As the feet are free to flex, stretch and be gently massaged as you walk.
What Are Some of The Health Benefits?
I looked into some of the health benefits of going barefoot and found that there are many. I have listed some below. If this is something you would like to give a go I would urge you to look these up. Some are backed by science and others are not. All I know is that it makes me feel good and feel better and more relaxed when I have been out in nature barefoot.
Reduces pain and inflammation
Eases anxiety and reduces stress
Boposts the immune system
Better sleep
Regulates the autonomic nervous system
Reconnects you with the earth
If you like the sound of the above health benefits you may also like to read – Nature Now Prescribed By Doctors or Amazing Health Benefits Of Forest Bathing
Testing the Powersocks
Since being sent the Powersocks to test and try out I have been wearing them around the house. They are very comfortable and keep your feet warmer than just a pair of socks do. Now it was time to get outside and try them out in nature since the weather has become somewhat milder.
I went for a walk through the local forest first which is bliss, as it is at any time. I did, however, as stated, feel more connected to nature when wearing these socks. It allowed me to really feel the ground below my feet. Not only did I hear the crisp leaves crunch and rustle underfoot, but I also felt them! I felt my feet stretch and also relax a little as I strolled along taking in the nature that surrounded us.
After a walk, we stopped and made a cuppa by the river. I love to just stop and chill in nature with a cuppa whenever I get the chance. Today was no different. While sitting listening to the water flowing past I wondered if it would be worth trying in the river today too. March in Scotland, the water wouldn't be too much above freezing! I decided to take the plunge as this is one thing I love to do is walk through the rivers or sea at the beach.
Oh, it was cold! But, the socks did great. The soles helped me to grip the rocks below the water which can be very slippery and gave me confidence that my feet were protected. I would normally wear swim shoes when doing this but the soles on them are much thicker and not as flexible. With the Powersocks, I could really feel the stones and pebbles underfoot. I was able to flex my feet better to get a better grip on them too.
My paddle only lasted a few minutes as the water was so cold, but it was fun and exhilarating. I should add that the Powersocks are not waterproof. The time came to dry off my feet, put socks and shoes back on to heat my feet back up. Now it was time to head home. I did sleep better that night but I'm unsure if that was because I had been barefoot or just because I was out in Nature.
What We Thought About Powersocks
I/We really loved them. As I like going barefoot, especially in the warmer weather, mine will be used often. They pack small to fit in a pocket if I'm not carrying a bag. I think they will be packed often for days out and for almost all of my camping trips. They will be great for in the tent too. As they are quick-drying I can wash/rinse them and hang them to dry ready for the next day's adventures.
I hope to buy a pair to replace the swim shoes that I would normally take to the beach. They often live in the car throughout the summer along with a small lightweight towel. That way I will always have a dry pair for adventures.
I loved that they were comfortable and soft, gave your feet plenty of movement and packed small. Much the way a normal pair of socks would.
Where to Buy Powersocks
You used to only be able to buy these socks direct from Powersocks. The aim was, still is, while the socks give you a more connected feeling to the world around you, the company strives to be better connected to the customer.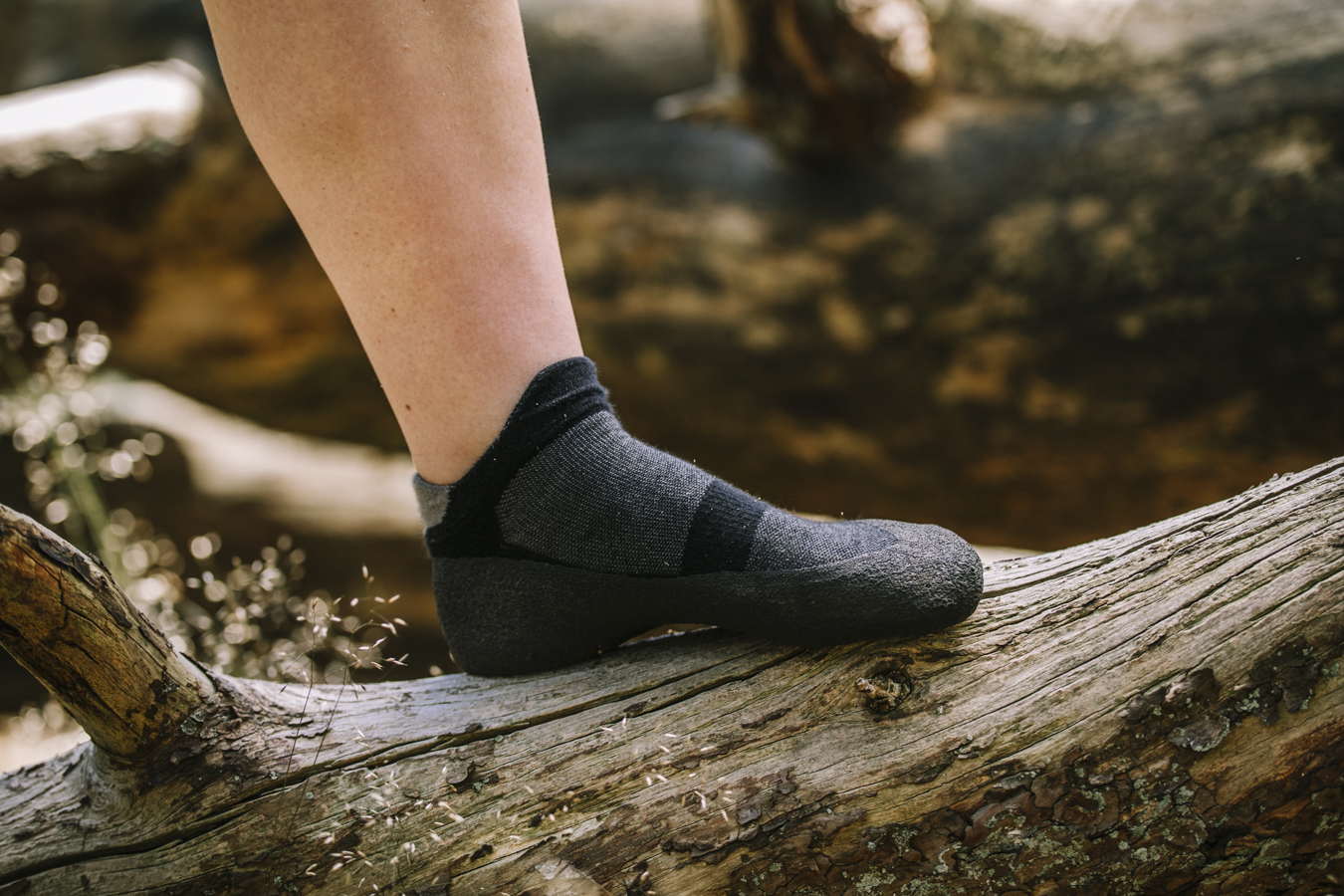 https://powersocks.com/?ref=Vgy_jvsclQqVu2
The company wants you to deal with them directly so they manage all orders, shipping, and customer service. This gives them a chance to better understand and connect with their customers. Any future products will take into account customer feedback, shared thoughts and views.
Powersocks also work with One Tree Planted and plant a tree for every order. One Tree Planted is a nonprofit organization focusing on reforestation. Their projects span the globe and are done in partnership with local communities and knowledgeable experts to create an impact on nature, people, and wildlife.
If you are interested in purchasing a pair of these socks you can receive an extra 10% OFF by using the code: Campmehappy at checkout. Just head over to Powersocks to place your order.
Please follow and like us: